Home
/
Media
/
Improving Functionality Through Regenerative Medicine
Improving Functionality through Regenerative Medicine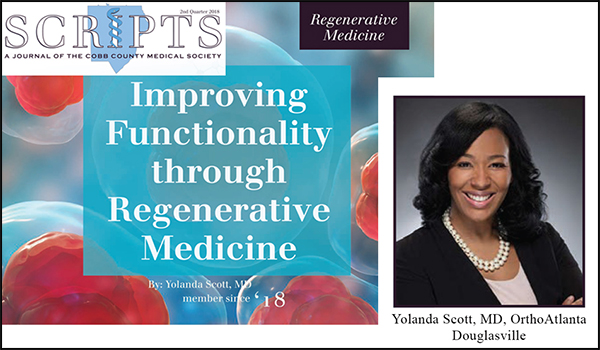 It's hard to keep up with the speed of technology, but with advancements come new ideas. Within the medical industry, one of the newest trends is the rapidly growing field of regenerative medicine.
At its core, regenerative medicine is the delivery of a specific product to a damaged or degenerative tissue with the hopes of restoring tissue and organ function. If current treatment options have been tried and proven to be inadequate, regenerative medicine can now be considered as another option for treating specific musculoskeletal ailments and in turn, may improve functionality.
Regenerative medicine is in its infancy and great deal of research still needs to be done before the use of these products become accepted as a standard of care. Yet, if a patient has exhausted all forms of conservative treatment, then stem cell treatment can be discussed as a potential alternative to surgery.
In an article published in the quarterly journal of the Cobb County Medical Society, OrthoAtlanta physiatrist, Yolanda C. Scott, MD, discusses regenerative medicine including Platelet Rich Plasma treatment, or PRP, a type of regenerative medicine that is very popular given its association with professional athletes.
Learn more by viewing the complete article, Improving Functionality through Regenerative Medicine (PDF), in the 2nd Quarter 2018 issue of Scripts, a Journal of the Cobb County Medical Society, page 6 and 7.
Learn more about Dr. Yolanda C. Scott, physical medicine and rehabilitation, OrthoAtlanta Douglasville.
« Back to News